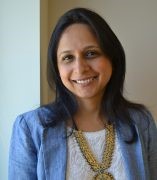 Do Health Promotion Programs Worsen Health Inequities?
Wednesday, September 27, 2023
4:00 pm – 5:00 pm
Preethi Pratap, PhD
Assistant Professor
Preethi Pratap, PhD, MSc, is assistant professor in the Division of Environmental and Occupational Health Sciences at University of Illinois at Chicago School of Public Health. Preethi's research focuses on application of systems thinking and participatory action approaches to engage stakeholders across the work ecosystem (academia, healthcare, corporations, government, community organizations) to co-create knowledge and inclusive evidence for broader policy, systems, and environment change initiatives to promote and support workforce health and well-being. Her specific research interests include conducting practice-based and equity-focused research to explore work as a social and structural determinant of health and its role in health inequities, engaging employers through TWH approaches as key stakeholders, and highlighting their role in contributing to workforce/population health and well-being. Currently, Preethi is PI on "Workforce Health and Well-being for All as a Sustainable Business Strategy", a research project in the Center for Healthy Work, Total Worker Health® Center for Excellence.